Upgraded Design & Performance for the All-New 2020 Toyota Corolla
The All-New 2020 Toyota Corolla will be having people doing double takes – with its lower, leaner & tighter design. It rides on a 106.3-inch wheelbase, with wider front and rear dimensions. The height was reduced by 0.8 inches and the hood was lowered 1.4 inches for better forward visibility. These transformations (and many others) have turned the Corolla sedan into an engaging machine to drive (Toyota).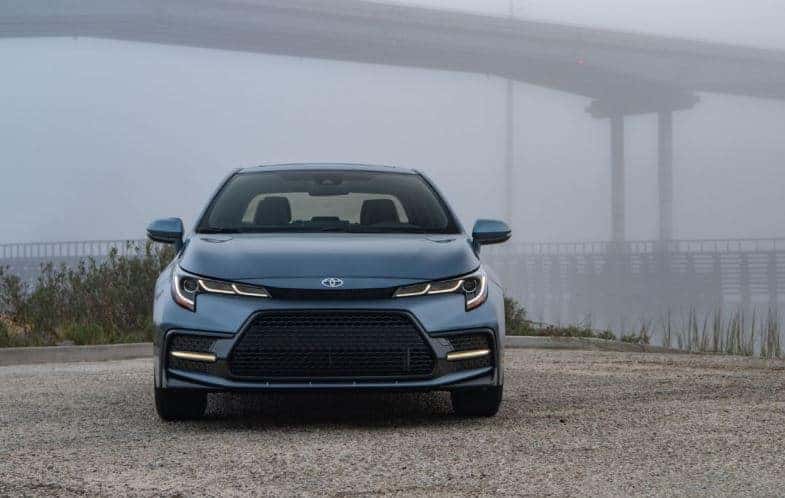 The 2020 Toyota Corolla SE and XSE are the sportiest styles, with a body-color chin spoiler and aero stabilizing fins to emphasize the wide stance (Toyota). J-shaped Bi-Beam LED headlamps are wrapped into the front fenders to give the Corolla a steely stare with a distinct nighttime signature (Toyota). The SE and XSE models use triple J-shaped clearance lamps with LED lights and LED turn signals, which creates a very unique design for the All-New Corolla. With available Adaptive Front-Lighting System (AFS), a wider field of light is provided and steers the vehicle's low beams in the direction of the turn – based on angle and speed. As for the rear; narrow combination lamps wrap deeply into the fenders, leaving a distinct lightning impression (Toyota).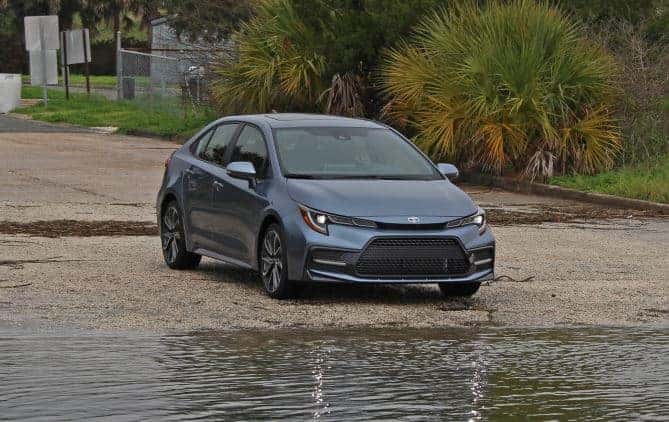 Toyota has also introduced a new dramatic color for the sedan, Celestite and Blue Print. 18-inch wheels are standard on SE and XSE grades, for the first time ever. The 2020 Corolla LE will ride on 16-inch steel wheels, while the XLE grade rides on 16-inch allow wheels with three-dimensional twisted spokes.
Powertrain and road noise have been culled, thanks to revised drive-train efficiencies and the widespread implementation of sound-absorbing materials (Toyota). The 2020 Toyota Corolla L, LE and XLE grades will use a 1.8-liter engine, which is the same engine as the previous generations', but with more horsepower and better fuel efficiency. SE and XSE models will be powered by an all-new 2.0-liter Dynamic-Force direct-injection inline four-cylinder engine, delivering more performance while using less fuel. A two-discharge port oil pump and a variable cooling system with electric water pump help maximize engine performance and efficiency.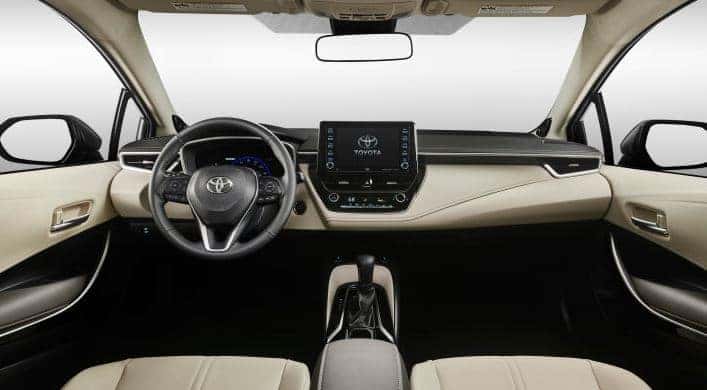 The interior of the 2020 Toyota Corolla is sporty and elegant, but also Corolla-comfortable and durable. The cockpit features an interior space that surrounds the driver, while offering a spacious environment for passengers. The instrument panel, cowl, hood and beltline height have all been lowered to increase visibility. Silver accents with piano black and available contrasting stitching give the interior of the Corolla a premium look and feel. Ambient lighting is available to illuminate the front door trim, console tray and front cupholder (Toyota).
To learn about the 2020 Toyota Corolla Hybrid, read our blog here.
References
TOYOTA – USA NEWSROOM. Performance and Design Highlight the All-New 2020 Toyota Corolla. February 2019.