Toyota Enhances TCUV Warranty

You don't have to worry. You're covered.
The newly enhanced Comprehensive Warranty reinforces Toyota's commitment to quality, dependability, reliability and safety – all while positioning us more competitively against competing certified programs (Bill Wright Toyota).
The Toyota Certified Used Vehicles Comprehensive Warranty coverage has increased from 3-months/3,000-miles to 12-months/12,000-miles with no increase to the dealer certification fee. The Limited Powertrain Warranty will remain the same at 7-years/100,000-miles, but will go into affect the day of the sale – rather than the first service appointment (Toyota Motor Sales, U.S.A., Inc.).
Our certification process keeps you in mind every step of the way. The TCUV standards apply from the time a Toyota dealer acquires the vehicle through to the final sale. Each candidate for certification can be a current model year vehicle, up to and including six year old models, with 85,000 miles or less on the odometer. Prior to the rigorous 160-point inspection every certified Toyota goes through, a CARFAX® vehicle history report is reviewed to ensure that only the best of the best vehicles receive the Toyota Certified Seal of approval.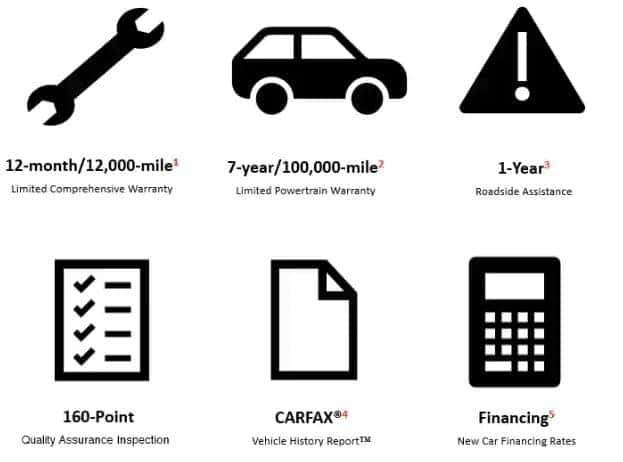 With 1 year of Roadside Assistance, 160-Point minimum Quality Assurance Inspection, Free CARFAX® Vehicle History Report™, Standard New-Car Financing Rates Available, and Warranty honored at over 1,400 Toyota Dealers – How is that for a peace of mind?
For more information, click here.
References
Bill Wright Toyota. What is Toyota Certified? May 2019.
Google Images. May 2019.
Toyota Motor Sales, U.S.A., Inc. Certified Used Vehicles. The Best New Cars Make the Best Used Cars. May 2019.