Toyota & Apple CarPlay™
Good news for Apple users! Apple CarPlay™ is now available in select 2019 Toyota models including the 2019 Toyota Avalon, 2019 Toyota Camry, 2019 Toyota Corolla Hatchback, 2019 Toyota RAV4, 2019 Toyota C-HR, 2019 Toyota Sienna and (soon) the 2020 Toyota Supra.
What is Apple CarPlay™?
Apple CarPlay™ allows you to safely use your phone while driving, by putting your favorite things right into your Toyota's built-in display. Apple CarPlay™ makes it easy to get directions, make calls, send and receive messages, listen to music and much more.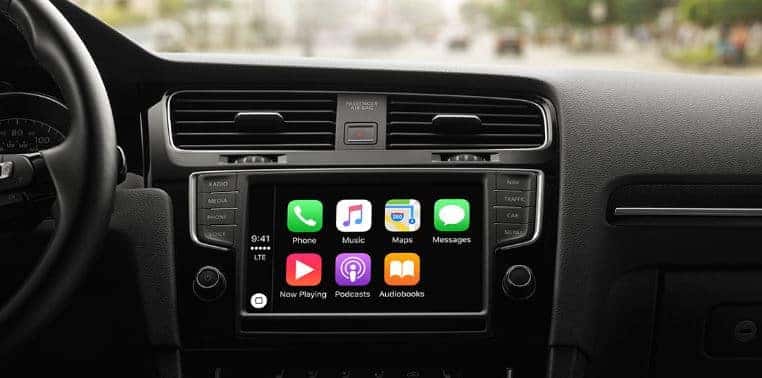 CarPlay™ features Siri Voice Control and integrates with the different knobs, buttons, and touchscreen in your Toyota. You can also use other apps – such as Pandora, Spotify, WhatsApp, Waze, Podcasts and more with Apple CarPlay™ (Apple Inc).
How do I connect Apple CarPlay™ to my Toyota?
To connect Apple CarPlay™ to your new Toyota, first be sure that Siri and CarPlay™ are activated on your iPhone. CarPlay™ is compatible on iPhone 5 and newer. You can find this in "Settings" and then by clicking "General". "Siri & Search" are located in Settings if you need to turn Siri on.
Connect your iPhone to your Toyota USB port using an Apple Lightning-to-USB cable. This USB port should be labeled as "Data" (AutoNation Toyota Las Vegas). Apple CarPlay™ will not work if your USB cable is plugged into another charge outlet.
Confirm that CarPlay™ is enabled on your vehicle's Entune 3.0 Multimedia screen.
You will be prompted to select "Enable Once, Always Enable, or Do Not Enable". Choose to your preference – but we recommend choosing Always Enable.
Here is a step-by-step video for those who are visual learners.
References
Apple Inc. Apple CarPlay – The Ultimate Copilot. March 2019.
AutoNation Toyota Las Vegas. How to Set Up Apple CarPlay. March 2019.
Google Images. March 2019.
Serra Toyota. How Do I Install Apple CarPlay in My Toyota? March 2019.
YouTube. Toyota USA. Apple CarPlay. March 2019.