Tariffs & Rising Interest Rates
The time to buy is now! If you're in the market for a new car, you may want to consider buying sooner than later.  Experts say that purchasing a new car (or a used car) will be more expensive in the future due to tariffs, rising interest rates & even higher gas prices.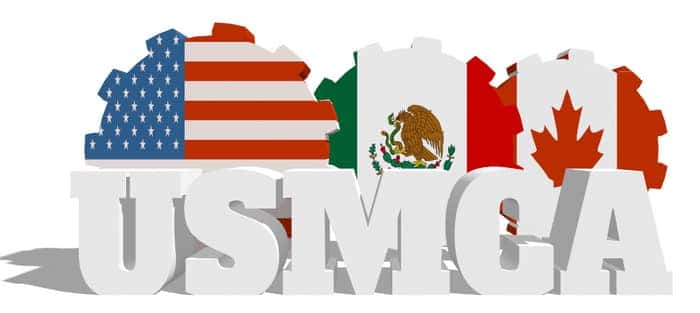 The U.S. Mexico Canada Agreement, otherwise known as USMCA, underwent significant changes by U.S., Mexican and Canadian negotiators (Forbes). The agreement states that 75% of parts for cars that are built for export within North America would be made in North America- in order to qualify for duty-free treatment (Forbes).  45% of North American-built cars are going to be built by workers earning at least $16 an hour by 2023, which will ultimately increase the cost of a vehicle (Forbes).
A 20 percent tariff could raise the price of vehicles by $4,000 to $5,000, but even go as high as a $7,000 increase. Tariffs could raise the price of an entry-level compact car between $1,409 and $2,057 (CBS News). Toyota has an estimated 25 percent tariff on automotive imports, which would raise the price of the Camry sedan by almost $2,000 (Consumer Reports).  It is predicted that widely sold SUVs could end up with the highest increases because only 46% of them are produced in the United States (Consumer Reports).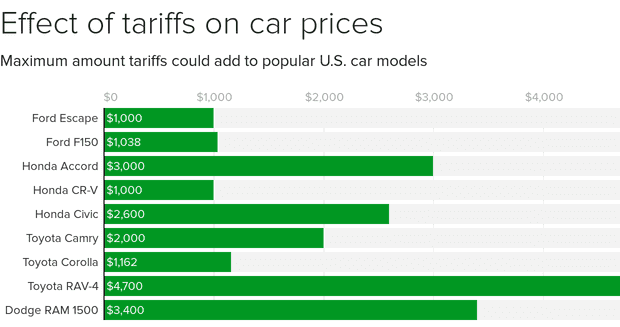 Interest rates on auto loans are said to spike 0.3 percentage points from last year (Forbes). Consider buying soon!
References
Barry, Keith. Consumer Reports. Signs Point to Rising Car Prices, so Consider Buying Now. October 2018.
Brinkley, John. Forbes. USMCA Is Not The Magnificent Trade Deal Trump Says It Is. October 2018.
Henry, Jim. Forbes. Rising Interest Rates Are A Headwind For 2018 Auto Sales. October 2018.
Layne, Rachel. CBS News. As Auto Tariffs Loom, Is Now the Time to Buy A New Car? October 2018.
Tankersley, Jim. The New York Times. Fed Monitoring Tariffs but Suggests Rate Increases Are on Track. October 2018.