Toyota Winter Care in Boston MA
Get Your Toyota Snow Ready with Expressway Toyota!
Winter driving can be the most dangerous driving you do all year. And conditions can change quickly so your Toyota Camry needs to be prepared as you venture out this season.
Your Engine Gets Cold Too
During the winter months, your engine needs special attention. Water expands when it freezes and your cooling system can crack and engine block without having the proper ratio of coolant to water.
Check Your Tires
Be sure as the air cools that the pressure in your tires doesn't contract too much. Traction and pressure will effect the handling of your vehicle. Or you may need winter, or all-season tires specifically designed to give more traction.
Check Your Battery
The capacity of your battery is also reduced during the winter months, make sure it's not too low. A dead battery can lead to a dangerous situation in the cold.
Don't Drive Blind
Older wipers can be overcome with heavy snowfall, greatly reducing visibility. Inspect your blades and replace them if they are old or worn.
Be Prepared
You may never need it but it's a good idea to prepare for the worst. A snow brush, ice scraper, small shovel and a bag of kitty litter will help free you from a snow drift and provide extra traction if stuck. A blanket, gloves, fresh water and non-perishable foods, as well as a first-aid kit, could come in handy too if you get stuck.
Stop by Expressway Toyota and let our trained technicians perform a full inspection of your vehicle and make sure you are ready for the coming season. If you're interested in getting the upper hand on mother nature this year, ask about a new Remote Starter.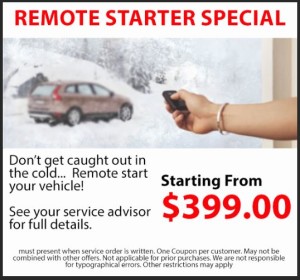 ToyotaCare
Schedule Service