Keep Your Vehicle Salt Free this Winter
The harsh winters can cause damage to the exterior & undercarriage of your vehicle; especially when it comes to salt on the roads. Salt is used on roads to melt ice and snow, and that mineral can damage your beautiful Toyota. The chemical reaction that is used between ice and salt is what keeps the roads and sidewalks danger free during the winter months.
So, how exactly does it work? Salt and sand mixture is spread over the roads before or after a snowstorm. The salt is used to lower the water's freezing point, which causes ice that is already formed to melt, while the air temperature remains below freezing. Sand adds in traction to wet and slushy roads (DMV.ORG).
The salt can cause damage to your vehicle's exhaust system, muffler, coil springs, sub-frame and hydraulic brake system. Salt can also cause rust and corrosion on your vehicle (DMV.ORG).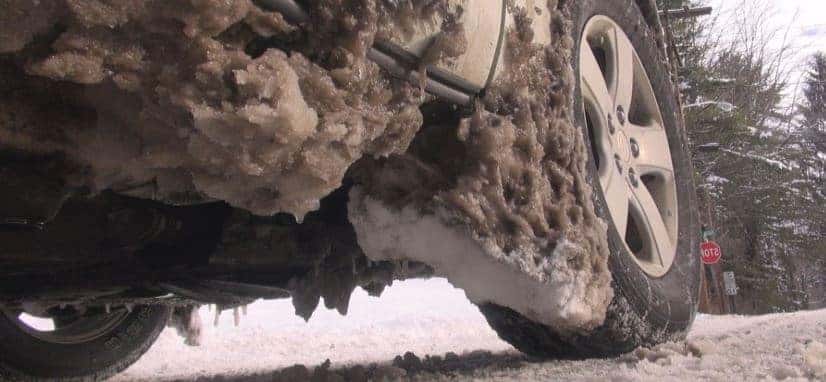 Here are some tips to keep your vehicle salt free during the winter seasons:
Keep it Clean: Of course you want to keep your vehicle clean year-round. It's especially important during the winter to prevent rust. Some transportation departments have even started to use salt brine instead of the traditional road salt, which is even harder on your vehicle. Washing your car once a week should help you steer clear of dirt and grime building up on your vehicle.
Wax Your Vehicle Often: The undercarriage of your vehicle is most at risk. Waxing your vehicle before the winter weather begins will give your vehicle an advantage. The wax protects the paint on your vehicle and avoids the grime that comes with the season.
Pre-Treat Your Vehicle's Undercarriage: Oil Solution Pre-Treatments are often offered at collision shops that can be sprayed on any exposed parts of your vehicle. The Pre-Treatment helps prevent salt and water sticking to the metal of your vehicle.
All-Weather Floor Mats: You want to keep the interior of your vehicle just as clean as the exterior of your vehicle. Investing in All-Weather Floor Mats will help keep your vehicle's carpets clear of mud, snow, salt, etc. You can switch these out before the upcoming spring season (Scott Clark Toyota).
References
DMV.ORG. Preventing Rust from Road Salt. December 2018.
Mercedes-Benz Raleigh. How to Clean Road Salt off Your Car: Tips, Tricks and Help. December 2018.
Scott Clark Toyota. Five Ways to Keep Salt and Snow Off Your Vehicle. December 2018.